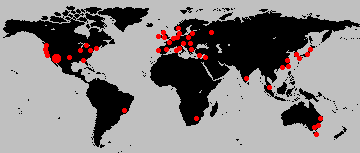 Appendix B:
Mirrors of
The Nine Planets
---
Copies of The Nine Planets are maintained at several dozen different locations around the world in addition to my primary site. Selecting one of the links below will take you to the Table of Contents page at the corresponding site; all subsequent pages will be read from that site, too. If your country has poor network connectivity you may find it faster to access one of the mirror sites that's nearer to you. Note, however, that most of these are not updated as frequently as the main site and some are years out of date; please use the main site if you can.
The Nine Planets has been translated into French, Spanish, Italian, Polish, Portuguese, Slovenian, Norwegian, French, Dutch, Danish, Thai, German, Chinese, and Japanese.
A French translation of The Nine Planets with a different and very nice look has been done by Arnaud Riess.
The Nine Planets has also been coded into a Windows 95 application by MP Brown.
The Nine Planets - For Kids is a special version of The Nine Planets for younger folks.
---
North America

South America

Europe

Asia

Australia
---
Home ... Credits ... Mirrors ... New Mirrors ... Copyright
---
These pages are Copyright © 1994-2001 by Bill Arnett; last updated: 2005 Aug 27